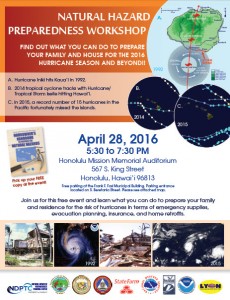 FIND OUT WHAT YOU CAN DO TO PREPARE YOUR FAMILY AND HOUSE FOR THE 2016 HURRICANE SEASON AND BEYOND!!
When:
April 28, 2016
5:30 to 7:30 PM
Where:
Honolulu Mission Memorial Auditorium
567 S. King Street
Honolulu, Hawai'i 96813
Attend this free event and learn what you can do to prepare your family and residence for the risk of hurricanes in terms of emergency supplies, evacuation planning, insurance, and home retrofits.
Free parking at the Frank F. Fasi Municipal Building. Parking entrance located on S. Beretania Street.
Event flyer can be downloaded, here