Workshop Registration is OPEN for "Determining BFEs in A Zones"
Posted on May 18, 2016 in NFIP News, Uncategorized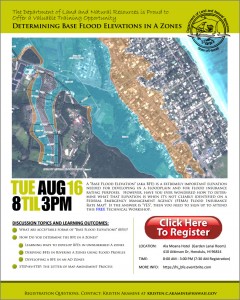 A "Base Flood Elevation" (aka BFE) is a extremely important elevation needed for developing in a floodplain and for flood insurance rating purposes.  However, have you ever wondered how to determine what that elevation is when it's not clearly identified on a Federal Emergency Management Agency (FEMA) Flood Insurance Rate Map?  If the answer is "YES", then you need to sign up to attend a FREE Technical Workshop being taught in Honolulu on August 16, 2016.
DLNR is pleased to bring this specialized training opportunity to Hawaii for the very first time.  The workshop will be taught by FEMA Region 9 Engineer, Ms. Shilpa Mulik, CFM.
As an advisor and engineering technical representative for FEMA, Ms. Mulik provides technical assistance on all engineering related policies and procedures to internal and external customers including Congressional representatives. She specializes in Letters of Map Changes (LOMC) and conducts LOMC training across Region 9.
Registration and more info: https://hi_bfe.eventbrite.com
Seating is limited, so reserve your seat today !!