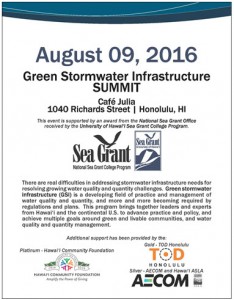 There are real difficulties in addressing stormwater infrastructure needs for resolving growing water quality and quantity challenges. Green stormwater infrastructure (GSI) is a developing field of practice and management of water quality and quantity, and more and more becoming required by regulations and plans. This program brings together leaders and experts from Hawai'i and the continental U.S. to advance practice and policy, and achieve multiple goals around green and livable communities, and water quality and quantity management.
The deadline to register is Friday, July 29, 2016.  
Download Full Program
This event provides up to 7 AICP CM credits.  Other CE units are to be self-reported; certification of attendance is provided.
This event is supported by a grant from the National Sea Grant Office received by the University of Hawai'i Sea Grant College Program.
Additional sponsorship has been provided by:
Platinum – The Hawai'i Community Foundation
Gold – TOD Honolulu (City and County of Honolulu Department of Planning and Permitting)
Silver – AECOM and the Hawai'i Chapter of the American Society of Landscape Architects
Questions?
Contact, Matthew Gonser
University of Hawai'i Sea Grant College Program