HAWAII ASSOCIATION OF REALTOR PRESENTS – An October Roadshow featuring informative speakers tackling important topics that affect Hawaii Real Estate.  Don't miss this opportunity to educate yourself with knowledge on current issues to better serve your clients.  Seating is still available, so don't delay and sign up today at: https://www.hawaiirealtors.com/roadshow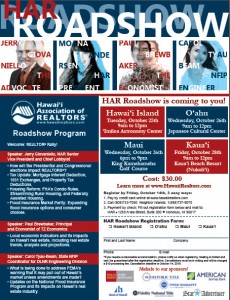 EVENT AGENDA:
Speaker:  Jerry Giovaniello, NAR Senior Vice President and Chief Lobbyist
How will the Presidential and Congressional elections impact REALTORS®
Tax Update: Mortgage Interest Deduction, 1031 Exchanges, and Property Tax Deductions.
Housing Reform:  FHA's Condo Rules, Streamlining Rural housing and Federally Assisted Housing.
Flood Insurance Market Parity: Expanding flood insurance options and consumer choices.
Speaker: Paul Brewbaker, Principal and Economist TZ Economics
Local economic indicators and its impacts on Hawaii real estate, including real estate trends, analysis and projections.
Speaker: Carol Tyau-Beam, State NFIP Coordinator for DLNR Engineering Division

What is being done to address FEMA's warning that it may pull out of Hawaii's market unless amendments are made?
Updates on the National Flood Insurance Program and its impacts on Hawaii's real estate industry