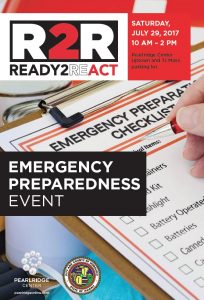 Come join the Dept. of Land and Natural Resources (DLNR) Engineering Division's National Flood Insurance Program as they participate in the Ready 2 React annual event this Saturday, July 29, 2017 from 10 am to 2 pm at the Pearlridge Center – Uptown. (Last year there was over 2000 in attendance at this event.)
DLNR is the state coordinating agency for the National Flood Insurance Program (NFIP) in Hawaii and we have been asked to participate in the 2017 5th Annual Ready 2 React Emergency Preparedness Fair.
The goal of the fair is to raise awareness of the hazards which face our residents and the steps they can take to be storm ready. DLNR staff will be on hand to present information on the importance of the NFIP, perform flood zone determinations for property owners, and be available to answer questions relating to flood insurance.
Download full flyer here