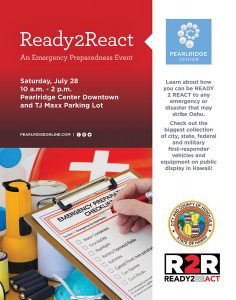 State's Largest Emergency Preparedness Event returns for its 6th year this coming Saturday, July 28th at Pearlridge Center from 10 AM – 2 PM.  Dozens of city, state, federal and non-governmental agencies will be on hand to offer valuable preparedness information and answer important questions you may have on preparing for an emergency or disaster.
The Department of Land and Natural Resources (DLNR) Engineering Division will once again participate in the Ready2React event.  As the state coordinating agency for the National Flood Insurance Program (NFIP), DLNR will be on hand to present information on the importance of the NFIP, perform flood zone determinations for property owners, and answer general questions relating to flood insurance.  This year, DLNR's booth will be located in the DOWNTOWN side of the mall (Booth # 25) along with first-responders and preparedness experts from the Honolulu Department of Emergency Management, American Red Cross, Honolulu Police Department, Honolulu Fire Department, Honolulu Emergency Services Department (Ocean Safety and Emergency Medical Services), Hawaii National Guard 93rd Civil Support Team, FEMA, Hawaiian Humane Society and Hawaii Heart Foundation, just to name a few.
Bring the entire Ohana and learn how to be Ready2React when the next disaster strikes Hawaii.