Floodplain Management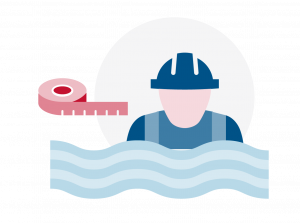 The National Flood Insurance Program (NFIP) is a voluntary program. The NFIP enables property owners in participating communities (i.e., local governments) to purchase insurance protection against losses from flooding. To help ensure that protection, local communities agree to manage special flood hazard areas (SFHA) development by adopting minimum regulatory standards set forth in Title 44 of the Code of Federal Regulation §60.3
If a community chooses not to participate in the NFIP, property owners in that jurisdiction are not able to purchase federally backed flood insurance. In addition, federal grants, loans, disaster assistance and federal mortgage insurance are unavailable for the acquisition or construction of structures in the floodplain shown on FEMA's Flood Insurance Rate Maps (FIRM).
Fortunately, all four of Hawaii's counties are participating communities in the NFIP and have adopted floodplain development regulations consistent with 44CFR§60.3. In fact, all four counties have implemented higher regulatory standards (i.e. freeboard, cumulative substantial improvement provisions, etc.) in their local ordinances.
It's important for property owners planning on building in or near a SFHA to understand the county floodplain management regulations and to discuss your plans with your county floodplain manager.
The table below identifies each county's floodplain manager, contact information, and links to their respective county's floodplain management regulations and websites:
Contact the FEMA Map Information eXchange (FMIX) if you have further questions or need additional assistance.
EVERYONE LIVES IN A FLOOD ZONE – FLOOD ZONE DEFINITIONS
Last Updated: 3/10/21