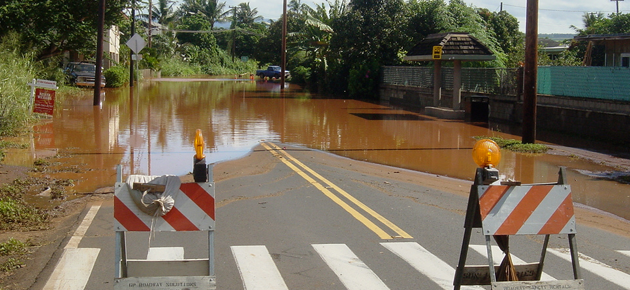 National Flood Insurance Program
The National Flood Insurance Program (NFIP) is a Federal program, which was established to allow property owners in participating communities to purchase insurance protections against losses from flooding.
Participation in the NFIP is based on an agreement between local communities and the Federal Government that states if a community will adopt and enforce a floodplain management ordinance to reduce future flood risks to new construction and substantial improvements in Special Flood Hazard Areas, the Federal Government will make flood insurance available within the community at a low cost.
The NFIP is administered by the Federal Insurance and Mitigation Administration (FIMA), formerly the Federal Insurance Administration ( FIA) and the Mitigation Directorate, components of the Federal Emergency Management Agency (FEMA).
The Department of Land and Natural Resources (DLNR) has been designated as the State Coordinating Agency responsible for assisting the coordination of the program between the Federal and County agencies in Hawaii.
All four of our Counties are participating Communities in the NFIP and each Community has a representative County Floodplain Manager that should be consulted for building permit related questions.
City and County of Honolulu Floodplain Manager

(808) 768-8098

County of Hawaii Floodplain Manager

(808) 961-8327

County of Kauai Floodplain Manager

(808) 241-4896

County of Maui Floodplain Manager

(808) 270-7139
In order for FIMA to determine the insurance premium rates, FEMA developed flood hazard rating maps called FIRMs (Flood Insurance Rate Maps). The supporting documentation for the FIRMs are published in the FIS (Flood Insurance Study). Development in Special Flood Hazard Areas, as identified on the FIRMs, are regulated by the NFIP.
The minimum NFIP rules and regulations are set forth in Title 44 of the Code of Federal Regulations. Each Community must also establish local flood hazard ordinances, which may be more stringent than the NFIP regulations.