Flood Insurance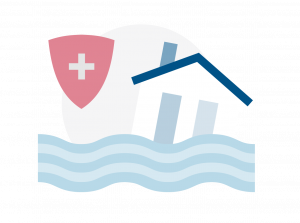 The National Flood Insurance Program (NFIP) aims to reduce the impact of flooding on private and public structures. It does so by providing insurance to property owners, renters and businesses and by encouraging communities to adopt and enforce floodplain development regulations. These efforts help mitigate the effects of flooding on new and improved structures.
Flood Insurance premiums are based on several underwriting criteria. For Hawaii structures built after the counties joined* the NFIP and identified on the FIRM map as being located in a Special Flood Hazard Area (A, AO, AH, AE, V, or VE zones), these structures were required to be built in compliance with the local floodplain management regulations in effect at the time of initial construction. It's important to note that all counties have adopted NFIP regulations that go above and beyond the minimum regulations set forth in Title 44 of the Code of Federal Regulation §60.3 such as regulating development outside of the SFHA if adjacent to drainage facilities, or adopting a cumulative substantial improvement provision, to name a few. Non-compliance with Title 44 of the Code of Federal Regulation §60.3 can significantly increase flood insurance premiums.All four of Hawaii's counties are participating communities in the NFIP and have adopted floodplain development regulations consistent with 44CFR§60.3 (Copies of local floodplain development regulations can be found on the FLOODPLAIN MANAGEMENT page). The benefit that Hawaii counties receive by participating in the NFIP is that Federal subsidized flood insurance is made available to property owners. Additionally, disaster assistance and mitigation grants are also accessible in the event of a Presidential declared disaster.
* See table below for each county's regular program entry date signifying the beginning of Post-FIRM development.
This FLOOD INSURANCE page is provided for informational and planning purposes. Property owners should always consult with an insurance agent for flood insurance premium quotes specific to your building and personal contents. For more information on the NFIP and flood insurance, visit: www.floodsmart.gov.