Flood Maps
WHAT IS A FLOOD MAP?
Flood maps are an important part of the National Flood Insurance Program (NFIP) as it show a community's risk of flooding.  Specifically, flood maps show a community's flood zone, floodplain boundaries, and base flood elevation.  These regulatory flood maps are called a Flood Insurance Rate Map.  FEMA maintains and updates the flood hazard data through risk assessments, which are used to revise the Flood Insurance Studies (FIS) and Flood Insurance Rate Maps (FIRMs).
Property owners, insurance agents, lenders, design professionals, and government officials are among the many NFIP stakeholders that utilize the FIS and FIRM maps:
–  as a basis of determining applicable floodplain management regulations for development within the floodplain; 
–  to determine flood insurance requirements and policy premiums; and
–  to help guide mitigation actions to reduce future exposure to flood risk .
HOW TO VIEW AND OBTAIN THE FIRM MAPS
The Department of Land and Natural Resources has developed and maintains the Hawaii Flood Hazard Assessment Tool (FHAT). The FHAT is an informational map viewer that displays FEMA's Geographic Information Systems (GIS) version of the FIRM map.  User can search by area of interest, address, TMK number, stream or watershed name, and by a specific Letter of Map Change (LOMC).
FLOOD HAZARD ASSESSMENT TOOL
VIDEO TUTORIAL: How to View Proposed Flood Maps using the FHAT
The FEMA Flood Map Service Center (MSC) is the official online location to find all flood hazard mapping products created under the NFIP, including your community's flood map.
Preliminary flood hazard data provide the public an early look at their home or community's projected risk to flood hazards. Preliminary data may include: new or revised Flood Insurance Rate Maps (FIRM), Flood Insurance Study (FIS) reports, and FIRM Databases.
National Flood Hazard Layer is a geospatial database made from effective flood maps and Letters of Map Change (LOMC) delivered to communities.
CAN I CHANGE MY FLOOD ZONE DESIGNATION?
If you believe your property was incorrectly identified as a Special Flood Hazard Area (SFHA) on the FIRM, you may submit an application to FEMA for a formal determination of the property's location and/or elevation relative to the SFHA. This is called a Letter of Map Change (LOMC) request.
After FEMA reviews the map change request, it will issue a determination document, either approving or denying the map change. There are two types determination documents you can seek in your LOMC request.
Letter of Map Amendment (LOMA): A letter from FEMA stating that an existing structure or parcel of land — that is on naturally high ground and has not been elevated by fill — would not be inundated by the base flood.
Letter of Map Revision Based on Fill (LOMR-F): A letter from FEMA stating that an existing structure or parcel of land has been elevated by earthen fill and would not be inundated by the base flood.
If FEMA grants the map amendment or revision request, a property owner may request that their lender remove the federal flood insurance requirement. However, it should be noted that flood insurance could still be mandated at the lenders prerogative.
HOW TO REQUEST A MAP AMENDMENT GUIDE
Letters of Map Amendment (LOMA) or Letters of Map Revision Based on Fill (LOMR-F) are processes to gain a better understanding of your home's flood risk – and potentially lower your flood insurance premium. This document provides criteria to determine if a homeowner is eligible for a LOMA or LOMR-F, the process for applying, and next steps upon receiving a determination letter:  Download Guide
For application materials, visit MT-1 Application Forms and Instructions for Conditional and Final Letters of Map Amendment and Letter of Map Revision Based on Fill.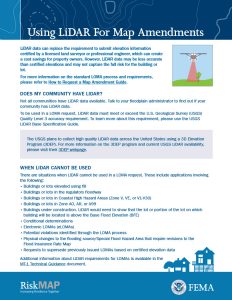 LiDAR data can replace the requirement to submit elevation information certified by a licensed land surveyor or professional engineer, which can create a cost savings for property owners. However, LiDAR data may be less accurate than certified elevations and may not capture the full risk for the building or lot.  For more information on the use of LiDAR data for Map Amendments, download:
FACTSHEET
. 
For more information on the standard LOMA process and requirements, please refer to
How to Request a Map Amendment Guide
.
Last Updated: 2/18/22