Flood Maps
FLOOD HAZARD ASSESSMENT TOOL (FHAT)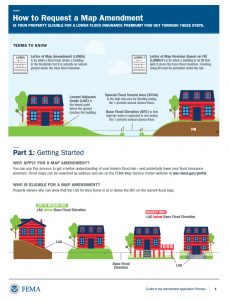 HOW TO REQUEST A MAP AMENDMENT GUIDE
Letters of Map Amendment (LOMA) or Letters of Map Revision Based on Fill (LOMR-F) are processes to gain a better understanding of your home's flood risk – and potentially lower your flood insurance premium. This document provides criteria to determine if a homeowner is eligible for a LOMA or LOMR-F, the process for applying, and next steps upon receiving a determination letter:  Download Guide
For application materials, visit MT-1 Application Forms and Instructions for Conditional and Final Letters of Map Amendment and Letter of Map Revision Based on Fill (https://www.fema.gov/media-library/assets/documents/31858).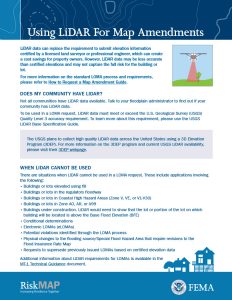 USING LIDAR FOR MAP AMENDMENTS
LiDAR data can replace the requirement to submit elevation information certified by a licensed land surveyor or professional engineer, which can create a cost savings for property owners. However, LiDAR data may be less accurate than certified elevations and may not capture the full risk for the building or lot.  For more information on the use of LiDAR data for Map Amendments, download:
FACTSHEET
. 
For more information on the standard LOMA process and requirements, please refer to
How to Request a Map Amendment Guide
.